For more than 20 years software development has been both my passion and profession. Many things have changed during this time and not all for the better…
Sometimes I miss the feeling of being in full control and understanding every little piece of the software from ideas to actual usage. In some sense it was easier before when this was expected from a software craftsman like me, to be able to deliver it all in one self, and to be the whole process and not just a replaceable gear that's moving other gear without understanding the purpose. For me the completness is where the passion was created, the endless curiosity and borderless creativity was created from this spark, resulting in a lifelong passion for software development.
Modern software development practices seems to aim for the return of the completeness into focus for developers – ALM and DevOps. Regardless of the role we have in the team the feeling of being a part of the whole and not just an isolated part should be valued as it feeds the sense of purpose and nurtures curiosity, maybe even sparks passion.
Continuous innovation, feedback and improvements feed the lifecycle engine in continuous agility from planning to operations. Composed of persons, processes and tools to make it more predictable and deliver more quality software faster.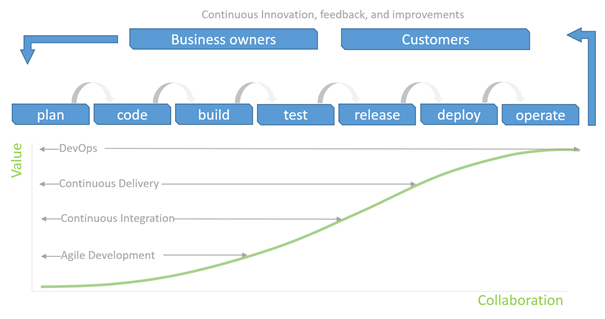 Gathered behind the shared goal of increased transparency and cooperation between all stakeholders involved in the software crafting process, making increased collaboration the key to success and sparking passion.
In the end it is the passion that rules the game.